---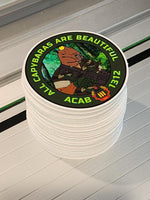 What better way to represent your disdain for state sponsored thugs than with a "ACAB" sticker! 
This legendary capybara stood against the fascist 'thin blue line' gangs and it's why we say "All Capybaras Are Beautiful" ;-) Slap 'em on your water bottle, laptop, car bumper, or over fascist propaganda!
100% of the profit from this sale will be donated to NEOSRA.
Five 3-inch (7.62cm) circular stickers per order!
(Shipping and handling will be thru Off Color Decals)